North Alabama a haven for outdoor adventure
Don't miss mountains, lakes, falls
Granted, the mountains of northern Alabama are not huge by most anyone's scale, but they are mountains. And along with the mountains are waterfalls and other natural features that make for exciting outdoor adventures.
The highest point in Alabama is Cheaha Mountain at 2,407 feet. It is located near Anniston in Cheaha State Park.
The Lookout Mountain Parkway follows the crest of Lookout Mountain for about 100 miles. This scenic drive passes through DeSoto State Park. There are 15 waterfalls within the park - some large, some small.
The largest is DeSoto Falls, a 100-foot waterfall, in the western section of the park along the West Fork of the Little River. It is easily accessible, just below a dam and its resulting lake.
DeSoto Park adjoins the Little River Canyon Natural Preserve, which is maintained by the U.S. Department of the Interior. Within the preserve, the Canyon Rim Drive follows the Little River Canyon for 28 miles along the west rim. Overlooks into the canyon offer visitors glimpses of the exciting white water below.
The Little River Falls mark the beginning of the canyon. The first overlook for the waterfall is actually beside the falls on the east rim.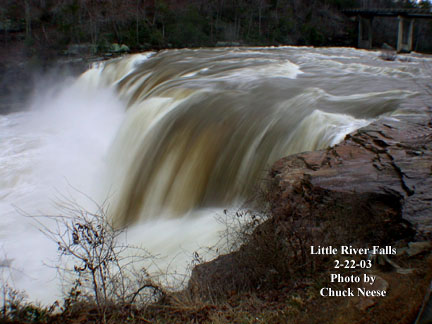 http://www.nps.gov/liri/home/home.htm
The western part of the state also has its own natural features - rock canyons, natural arches and lush forests.
Dismals Canyon is located near the town of Phil Campbell and south of Russellville.
It is believed that the dark, misty canyon got its name from Scottish-Irish settlers. Known for its colorful history of secret Indian rituals and as a hideout for outlaws, Dismals Canyon was also the holding ground for some of the Cherokee and Chickasaw Indians prior to the Trail of Tears. Within the area's boundaries is one of the oldest stands of forest east of the Mississippi River.
Waterfalls, rock formations, cliffs and natural bridges are also features in Dismals Canyon. Night tours are conducted during the summer to see the glow-in-the-dark worms known as "Dismalites," which are seen on moss-covered boulders in the canyon.
Just east of the William B. Bankhead National Forest is Natural Bridge, the town and the 148-foot-long, 60-foot high, 8-foot-thick sandstone "natural bridge." Within a forested setting, hiking trails lead under and around the impressive formations. The Natural Bridge of Alabama is located in Marion County.
The Tennessee River dips down into Alabama long enough to offer opportunities for water recreation, with the help of the Tennessee Valley Authority, which built hydroelectric dams at three locations along the river; there are large lakes for even more occasions for water enjoyment.
For more information: www.northalabama.org, or call (800) 648-5381.
Canyon Area: