Different Construction Methods for Travel Trailers and 5th Wheels (RV's)
Various methods are listed in lower to higher quality based on my opinions, my ownership and the RV's owned by people we travel with.  While you may not be looking for a high end or luxury RV, having an understanding of construction techniques can help you avoid paying a middle of the line price for what may be a lower quality trailer.
I have personally owned three that fit in to category "2" and one that fits into category "4" but uses fiberglass instead of foam block.
2x2 wood framing of the walls.

 

This method is only used today on the bottom of the line RV's.

 

Most or all of these trailers will have corrugated aluminum siding.

 

Water damage and wood rot can be a severe problem.
Laminated:

 

Partial aluminum frame. 1-1/2" or 2"

 

aluminum framed laminated fiberglass
walls with "Filon Plus".  I.E.; A sandwich of Filon, 1/8" Luan Board, Solid Block Insulating Foam, and Interior Decorator Board.  Manufacturers of units with partial frames will not normally show you a photo of the frame.
Laminated:

 

Full aluminum frame with studs on 16" centers.

 

The manufacturers' brochure will probably have a picture of the wall frame.
Laminated:

 

Full aluminum frame with studs on 16" centers and Second Layer 1/8" Luan Board with seams staggered. (2 & 3)
<![if !vml]>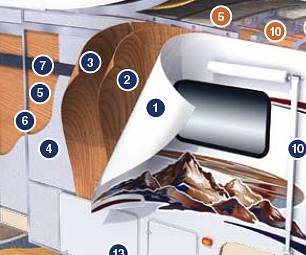 <![endif]><![if !vml]>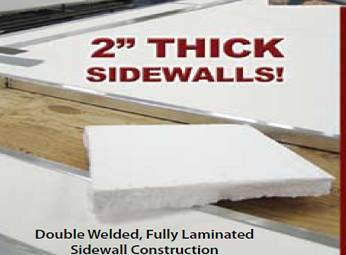 <![endif]>
<![if !vml]>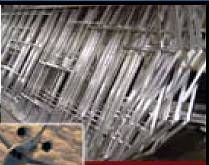 <![endif]>…..
A different version of #3 and #4 consists of using fiberglass insulation instead of foam blocks.  This will result in a RV that is not as well insulated and may not be as durable over the long run.  One key point is that not all units with foam board are laminated.
  #2 has to have the foam board since it is part of the structure, lamination, of the unit. 
ROOFS:
A rubber roof is today's norm.  The trusses can be wood, aluminum or steel.  My preference would be aluminum or steel.
Back to the main Camping Page.
All the way back to The Adams Family homepage.